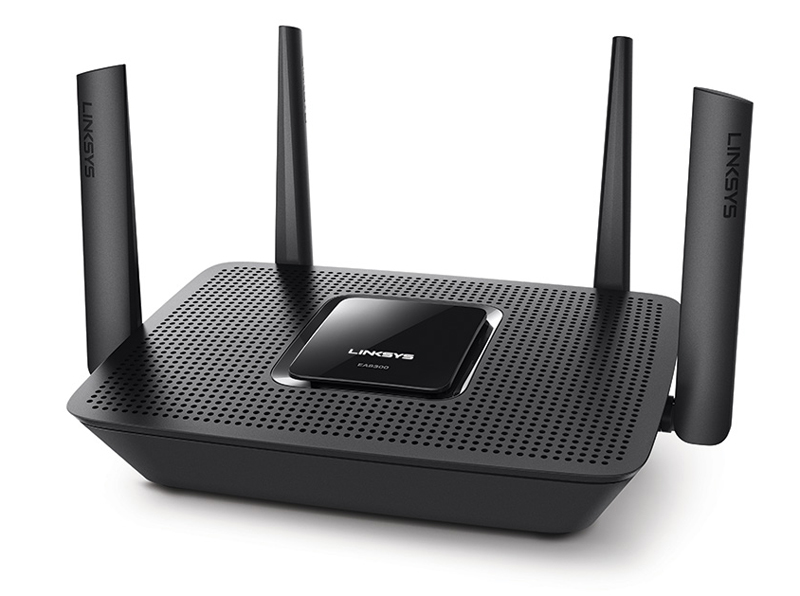 DOUBLE THE PERFORMANCE OF A DUAL-BAND ROUTER
Enjoy up to double the performance* of a Dual-Band router with the Linksys MAX-STREAM AC2200 MU-MIMO Wi-Fi Tri-Band Router (EA8300). Featuring Tri-Band technology, the MAX-STREAM AC2200 is ideal for 4K and HD video streaming and next-gen online gaming.
Households with heavy Wi-Fi use will experience fast data transfers thanks to this gigabit Wi-Fi router's combined 2.2Gbps speed and Quad-Core CPU.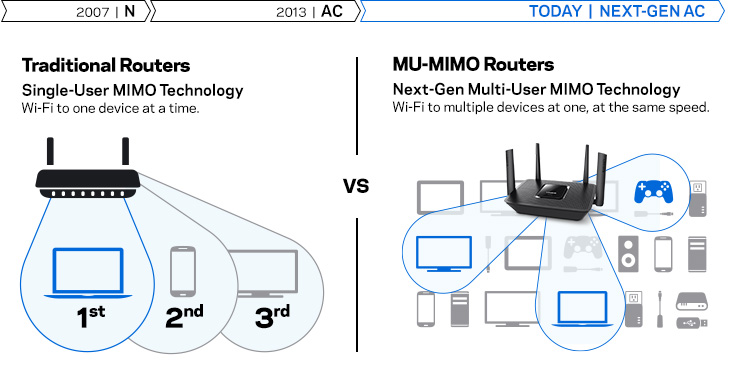 EXCEPTIONAL MULTI-DEVICE PERFORMANCE WITH MU-MIMO
Devices such as 4K TVs, HD streaming media players, tablets, and game consoles consume a lot of bandwidth. With MU-MIMO (Multi-User Multiple-Input Multiple-Output) technology, the EA8300 router sends Wi-Fi to multiple devices at the same time and same speed. It's like having a dedicated Wi-Fi router for each of your devices.

SEAMLESS ROAMING TECHNOLOGY**
Traditional routers and range extenders force you to manually connect to either the range extender's or router's network in order to experience the best Wi-Fi signal as you move about your home. But with the EA8300's Seamless Roaming support, your devices will automatically connect to the strongest Wi-Fi signal by utilizing a single network name. Pair the router with a compatible range extender to enjoy a strong, seamless Wi-Fi signal in every room of your house.

USB AND ETHERNET PORTS CONNECT MORE DEVICES
Four Gigabit Ethernet ports let you connect more devices and share files 10x faster than with standard Ethernet. The ultra-fast USB 3.0 port is ideal for connecting shared network storage devices as well as a range of other peripherals.

HIGH-PERFORMANCE ANTENNAS FOR MAXIMUM COVERAGE
The EA8300 wireless router features four external adjustable antennas that provide four powerful streams of data to your devices--ensuring complete coverage of your home. Better coverage means faster Internet speeds wherever you are.
LINKSYS AUTO FIRMWARE UPGRADE
Linksys automatically pushes the software update to your router overnight and seamlessly bring the latest features and security to your home network. Your Linksys router will be consistently getting better over time.
Two features that will soon be added to the EA8300 are an OpenVPN Server and Advanced Band Steering.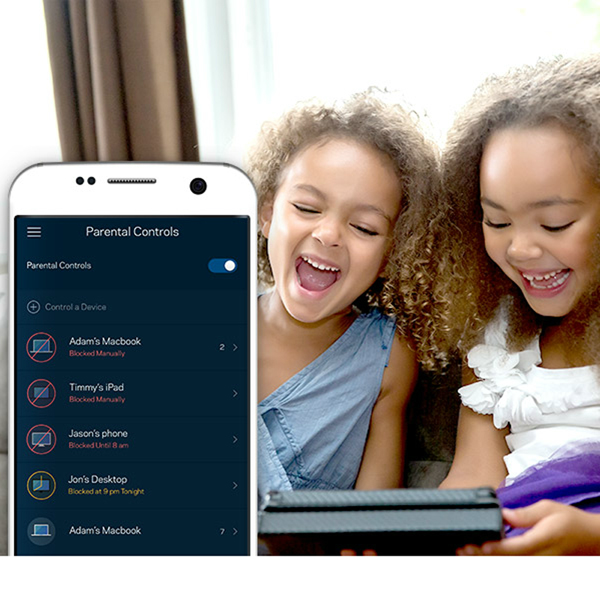 CUSTOMIZE AND MANAGE YOUR HOME WI-FI ANYTIME, ANYWHERE
With the Linksys App, you can closely monitor and manage your home Wi-Fi remotely using a smartphone or tablet.
Guest Access: Create a separate, password-protected Wi-Fi network for up to 50 guests and easily share the password.
Parental Controls: Ensure a safe Internet experience for your kids -- even when you're away from home. Restrict access to inappropriate or distracting content, control usage, and block specific devices from accessing the Internet.
Device Prioritization: You can prioritize devices that need the most speed.
Speed Test: Easily test and monitor your Internet connection's speed.